Director & Screenplay: S.S. Rajamouli
Cast: Prabhas, Rana Daggubatti, Anushka Shetty, Tamannah Bhatia, Ramya Krishnan, Nasser & Satyaraj
Frankly speaking, never watched the Bahubali-1 completely till now, but had understood the story line due to the repeated telecast on MAA TV.
Storyline of Bahubali 1 and 2 is about coveting the power from the deserving and ultimate failure in doing so.
Its not an easy task to deliver a larger than life characters in a periodic film on the big screen especially to the Indian Audience whose expectation levels are deep owing to the deeply penetrated consciousness about the kingdoms, kings and queens in their blood.
And Bahubali-2 excelled in that task and deserves its unique identification amidst the Indian cine world.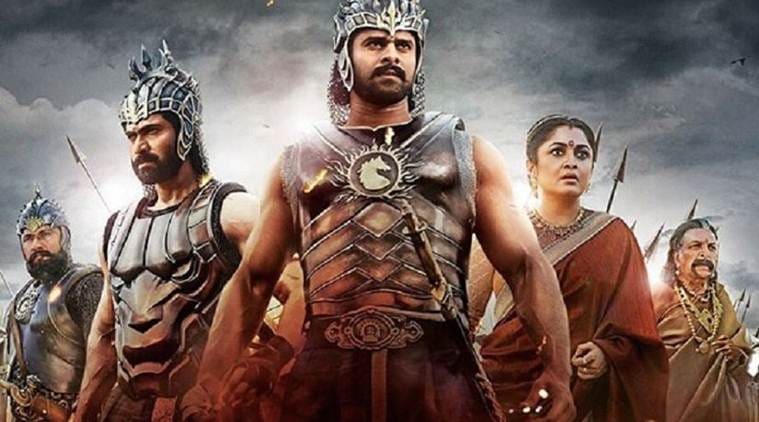 Each and every character had a valuable presence on the screen be it Kattappa, be it Devasena, be it Bhallala and last but not the least Sivagami, the Rajamata.
The importance these characters were given can be identified by concentrating on the way the actors and actresses got involved into the same. I could recall Ms. Ramya Krishnan being identified as Nilambari after Padayappa's success in India. But post Bahubali's tremendous succcess she will be carrying the tag of Sivagami at international level.
I am just thinking what to describe and what not to describe about the film.
Nothing can be taunted. Be it the posh set designed for the film or unbelievable VFX effects or precision thundering fight scenes.
Its a treat for Indian Cinema lovers by SS Rajamouli.
I would like to pick few scenes that was enjoyed by me.
Scene 1: Ofcourse the introduction of Bahubali through incredible taming of an elephant and Sivagami's fearlessness during the entire course of action.
Scene 2: Bahubali standing for Devasena safeguarding her pride at the Mahishmathi court hall.
Scene 3: Swift justice provided by Bahubali to the pervert.
Scene 4: Bahubali and Devasena leading a simple life amidst the ordinary people solving their problems using their right mindedness.
Scene 5: Kattappa smearing the blood of Bahubali onto Sivagami's hands to make her realize the gravity of mistake she had committed.
Scene 6: Devasena walking over the cut golden face replica of Bhallala and setting him on fire alive.
Film has given every opportunity to precipitate the goodness of Indian culture i.e. respect and importance given to women at the political level which most of the western world fears to provide even now. Importance given to cherish able relationship that looks beyond the flesh and meaningless attraction.
At the end of the day, we need to realize that we are no more under the monarchy system and we are indeed governed by democratic principles. In the democratic setup each voter is a Bahubali / Sivagami / Devasena and there is no need to wait for 25 years to dethrone a Bhallala. This should be end point to take home.
Mana Andhari Maate Bharatha Rajyanga Sashanam. Jai Bharatham.